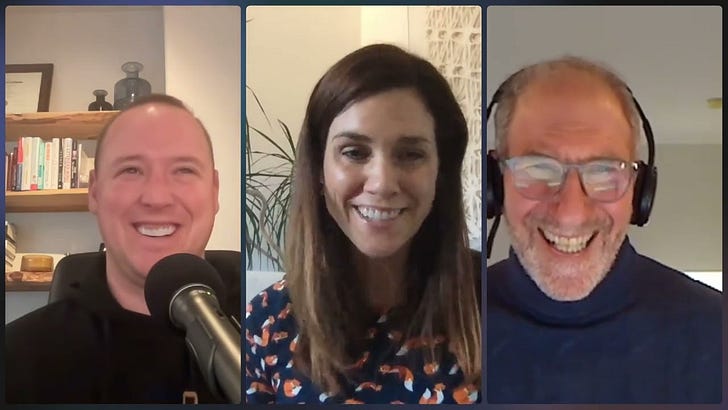 Dec 27, 2022 • 57M
Mental health differences in entrepreneurs, superpowers that come with mental illness, and how entrepreneurs can be resilient | Interview with Dr. Michael Freeman and Dr. Adrienne Heinz
As a former technology executive and workaholic, I offer practical mental health advice to other high achievers struggling to manage their minds amidst the chaos of building their career.
In the summer of 2022, I was fortunate to be introduced to Dr. Michael Freeman of Econa to chat about the relationship between entrepreneurship and mental health. He would know since it's one of the areas in which he is a well-known expert, along with one of his colleagues Dr. Adrienne Heinz.
We spent an hour covering multiple angles of entrepreneur mental health, which I've provided show notes on below, in addition to the audio and video recordings you'll find on this page. Enjoy!
About Dr. Michael Freeman
Dr. Michael Freeman is a psychiatrist, serial entrepreneur, executive coach, entrepreneurship researcher and behavioral health systems architect. Dr. Freeman serves as a Clinical Professor of Psychiatry at the University of California San Francisco School of Medicine and as a Mentor in the Entrepreneurship Center at UCSF. With support from the Kauffman Foundation, Dr. Freeman studies issues related to entrepreneur mental health in collaboration with colleagues from U.C. Berkeley, the Gallup Organization, and other universities. Additionally, he was the founding Chief Medical Officer at U.S. Behavioral Health and the Founder of Econa, the global center of excellence for entrepreneur mental wellness.
About Dr. Adrienne Heinz
Dr. Adrienne Heinz is a licensed psychologist who conducts research and clinical practice in resilience, trauma, anxiety, and substance use. She received her Bachelor's in Psychology and Cognitive Science from UNC-Chapel Hill, and a Doctorate in Clinical Psychology from the University of Illinois Chicago. She completed her Post-Doc Fellowship at Stanford University. Dr. Heinz is a research scientist for the U.S. Department of Veterans Affairs at the VA National Center for PTSD and Stanford University School of Medicine, specializing in developing, evaluating, and implementing digital mental health interventions.  She also works as a consultant advising on entrepreneur well-being and mental health strategy in the workplace.  Finally, as a member of a chronically wildfire-affected community in Sonoma, California, she is passionate about education and advocacy initiatives that address the intersection of climate change and mental health.
Interesting Points
Mental health differences play a major role in fueling entrepreneurship. Those with a tendency towards risk-taking, disagreeableness, lofty thinking, and compulsivity tend to be the people that start companies. Therefore, it's important to understand that mental health differences and entrepreneurial capabilities are two sides of the same coin. Prior research indicates that those most severely affected by mental health differences tend to get the best business results.

A high percentage of entrepreneurs come from families with diagnosable mental health conditions. It's common for entrepreneurs to come from backgrounds with multi-generational illnesses and trauma.

Life experiences + genetic preconditions + entrepreneurship environment all contribute to mental health challenges. In other words, entrepreneurs bring their mental health preconditions into the situation, while the difficulties of starting and building a business also create mental health issues.

Entrepreneurs overreact to positive and negative signals. That is one of the preconditions that sets them apart. The technical term is "reward sensitivity," whereas entrepreneurs are more sensitive (positive and negative) to external stimuli.

Trauma survivors know how to fight and persist but don't know how to care for themselves and rest. Entrepreneurs with a traumatic background are especially prone to the tendency toward overworking.

The age of onset of entrepreneurship and onset of mental health conditions is virtually the same — late adolescence into early adulthood.

The essential toolkit for mental wellness includes adequate sleep, quality nutrition, physical exercise, a support network, and mindset to not associate one's self-worth with their business's successes or failures.

It's essential that entrepreneurs pick a business idea related to their lived experience and therefore have personal motivation. But it's not enough. They also need to pick an area where they have applicable skills and experience. Working on something you're passionate about but not skilled at is a path to psychological pain for an entrepreneur.

Entrepreneurs sometimes fear doing the emotional healing work because it will remove their drive to succeed. It's a common misunderstanding. The baby does not get thrown out with the bath water. And unaddressed psychological pain only gets worse over time.

Difficult childhoods lead to increased self-reliance, better coping skills, more comfort with taking risks, and a better ability to tolerate uncertainties — all of which are positive skills for being an entrepreneur. Early disadvantages in life can be highly predictive of future entrepreneurial success.

It's important to find a culturally relevant therapist for your situation. If they don't understand your cultural context, they probably won't be able to help much.

Depression is the leading global cause of unemployment.

Having a community to connect with is a commonly overlooked resource for entrepreneurs. Creating one is easy with today's tools, such as Discord and Zoom. A good starting point is to copy the 12-steps format and use that for active listening amongst a community of entrepreneurs.

The world needs entrepreneurs. Entrepreneurs create 80% of net new jobs. Countries cannot survive without entrepreneurs. So by pursuing their passion, entrepreneurs are also doing something important for their community.
Episode notes
Mental health differences in entrepreneurs versus the general population - 1:57

The role of life experience versus genetic predisposition in entrepreneur mental health - 5:13

Why the symptoms of burnout closely mirror the symptoms of PTSD - 9:08

What entrepreneurs can do to prepare themselves for the stresses of building a company - 12:08

Not getting your sense of worth enmeshed with the success or failures of your business - 16:08

Why recovery from trauma requires multiple forms/channels of trauma work- 21:04

The tendency to avoid psychological work out of fear that it would "remove an entrepreneur's superpowers" - 23:27

The lack of mental health support services for entrepreneurs, and what we can do about it - 31:12

Attempting to change investor's understanding and perspective on mental health - 38:24

The Deviant's Advantage and other great books for entrepreneurs - 43:33

Community support as a critical resource for entrepreneurs - 46:58

Final thoughts and advice from Dr. Freeman and Dr. Heinz - 53:31
Books for Entrepreneurs
Here's a list of the books that were mentioned in the podcast.
How to connect with Dr. Freeman
LinkedIn: https://www.linkedin.com/in/michaelfreemanmd/
Econa Website: https://econa.net/
Personal Website: https://michaelafreemanmd.com/Home.html
How to connect with Dr. Heinz
LinkedIn: https://www.linkedin.com/in/adrienne-heinz-phd-b9a54633/
Website: http://www.dradrienneheinz.com/about-dr-heinz.html